"A 'daddy's little girl' is the one who would rather get her hands covered in engine oil with dad, than stay in the house and bake buns with her mother!"- Mishelly
While we don't know Mishelly, we do believe that the above quote yields a wealth of valuable information. We know two things. We love Jeep and we love our father! Though, let the record show, we do like to make cookies (and eat them) with our mother. In celebration of Father's Day, we, the Jeep Girls, decided to honor our father, (who is great, as many are) by evaluating a series of Jeep-worthy adventures for Jeep girls to entertain with their dads.
What better place to start the perfect Father's Day quest than by catching a baseball game? Hailing from Chicago, it's natural that we are fair-weather, yet diehard sports fans. The number one team our dad Tim loves is the Cubs! It is an annual tradition that our dad eagerly waits by the computer, picks a date off the calendar and four Spring Training tickets hang on the bulletin of upcoming family events. It's also been tradition that one of the two of us is off checking out a new trail or meeting with a legend so that we can't actually make it to the game. In 2014, weather even rained on our parade, quite literally!
When the Chicago Cubs faced the Arizona Diamondbacks during the regular season, we knew we just had to go with dad. Chase Field in downtown Phoenix has a lot to offer, even a swimming pool! We were surprised to find the retractable roof closed during the game we attended, but ultimately this was a very good thing. We didn't get sunburned and all of a sudden the May air was nice and cool. We also didn't need to shade our eyes to see the two run homer Cubs' left fielder Chris Coghlan hit, slicing the lead in the fifth!
For a day at the ballpark, we love Chase Field. For eight years running, the Diamondbacks have the lowest Fan Cost Index in Major League Baseball. This means that for a family of four, seeing the Diamondbacks is $80 less than the industry average to attend a Major League Baseball game. In Jeep Girl's terms, this means $4 beers and $1.50 hot dogs. This also means we would love to drive our red Wrangler with the top down and with our dad to a game at Chase Field, no matter who wins! "Take me out to the ball game!" Of our list of favorite West Coast, warm weather, Father's Day excursions, may we suggest: visit Arizona! From Spring Training to Major League Baseball, the Valley of the Sun is a great town for America's favorite pastime.
From Arizona, we trekked in our Jeep Commander down wandering desert, without even a pit stop, toward San Diego, one of our dad's favorite weekend getaways. With a plan in mind, the search for the greatest Father's Day adventure continued! Next stopover: The Hotel del Coronado. We elected to spare no expense by indulging in the decadent San Diego Sunday Brunch in the Crown Room by the sea. We love this National Historic Landmark for its beauty and history. Driving over the San Diego-Coronado Bridge, the wooden Victorian beach resort shines like a beacon across San Diego Bay. More than 125 years of legendary stories are housed within these walls. The property truly is a living legend. Marilyn Monroe, The Wizard of Oz and President Jimmy Carter all share a connection with The Hotel del Coronado.
The Crown Room, where the famous Sunday Brunch occurs weekly, features chandeliers designed by Frank Baum, author of the Wizard of Oz. It is said that this room alone inspired much of Baum's writing as well. Meanwhile, Dad and his daughters were inspired to embark upon a gastronomic voyage of epic proportions. From cioppino to egg soufflé with rosemary hollandaise, we compared notes and carried on. We spoke with Chef Paul Bauer about what to anticipate for the Father's Day feast. Every Sunday, Chef Paul presents a suckling pig for carving right off the entryway. We knew the Chef would not disappoint. He hinted that "The Del" would be a place where the grilling still happens, but with a little less effort. Our dad's taste-tested recommendations include the chilaquiles and the pork sliders. We loved anything with champagne (Rose, Brut, Pomegranate – we tried them all) and a chocolate fountain! The Sunday Brunch is worth the splurge to enjoy each other's company. It's the place to be. We asked Eddie Ramirez, the banquet manager, about famous past guests, and though he mentioned a few, Kate Morgan took the cake.
Apparently, Morgan checked into room 304, but never checked out. In 1892, the 28-year-old, midwesterner told the staff that she was awaiting the arrival of her brother, a doctor who was going to treat her stomach cancer. Three days later, a young woman was found lifeless in the stairwell leading to the beach, declared dead by gunshot of her own hand. There is much mystery that surrounds Kate Morgan at The Hotel del Coronado. No one came to claim the body. Also, it was noted that the photo of Morgan that was passed around did not match the image of the beautiful stranger who tragically met her end on that fateful day. Nonetheless, at the time the case was declared closed. Researchers have theorized that the woman at the hotel was not in fact Kate Morgan, but rather a socialite named Charlotte Bernard. Possibly a grand hoax? The truth is buried deep within The Hotel del Coronado, as well as the essence of the beautiful stranger.
The friendly staff in the Crown Room was not shy about sharing spooky encounters. Of those that noted magnetic silverware, misplaced saltshakers or a feeling of a "presence," all accounts were benign. History may never reveal the identity of the beautiful stranger of the Hotel del Coronado, but a visit to the stunning and sprawling beachfront resort may just provide a very special experience. After a food-induced comatose-like nap on the fine sand, we prepared for yet another quest for the perfect Father's Day affair.
Next, we headed to Irvine in the Jeep Commander with some more surprises in mind. The Embassy Suites Irvine-Orange County Airport is our home away from home. Lawrence Brockington II welcomed us with open arms and an East Coast candor that made us feel a little more real and at home. The Embassy Suites Irvine is close to many things we love, including Disneyland!
Our father has been patient enough to tolerate our overwhelming enthusiasm of the Disney magic since we were young girls. Like many others, we grew up on the "Disney spirit," and our dad and mom have showed us the way. Disneyland resort is fun for all ages and we're glad to have celebrated many memories of our lives together there.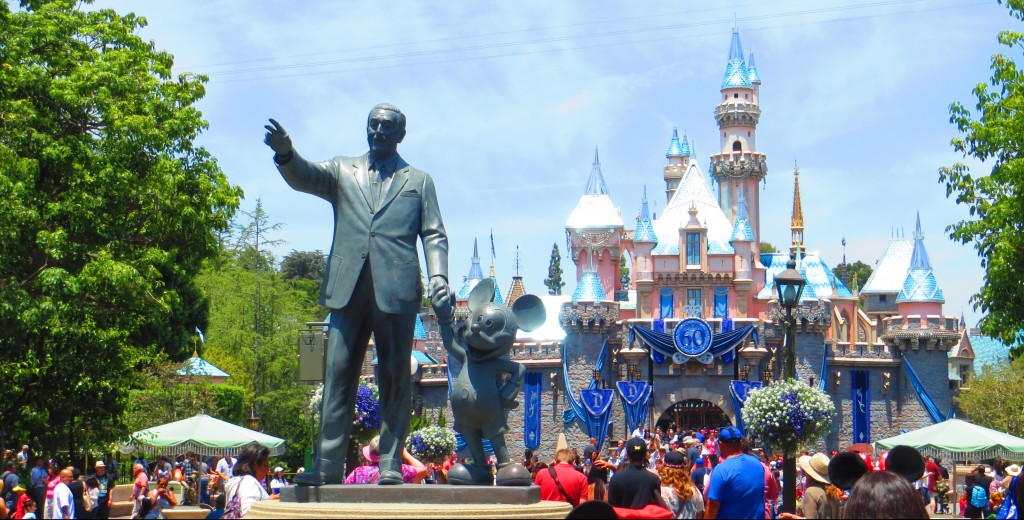 Disneyland Resort reached a milestone of 60 years of magic this year. On May 22, Disneyland Resort launched its Diamond Celebration, which will continue through 2015. In true Disney fashion, the three new spectacular nighttime shows did not disappoint. Disneyland for us signifies a hub of imagination and innovation.
We caught "World of Color- Celebrate! The Wonderful World of Walt Disney" in Disney California Adventure. The story of Walt Disney is told with dancing fountains and with animated imagery.
For our father, Disneyland has always meant a light show spectacular. Paint the Night-All New Electrical Light Parade features more than 1.5 million LED lights on floats. Though we collectively adore the nostalgia of the traditional Electric Light Parade, the illuminated costumes were quite impressive. After a few rides of Indiana Jones, which we pretend we're heading off-road, and multiple stomach drops from the Tower of Terror, it was time to say goodnight to the beautiful imagination of the Disneyland Resort.
Among all of the Father's Day activities thus far, it was certainly tough to devise just one that would say "dad" above all else. Luckily, we are certainly products of our parents. Our mother says, "the apple doesn't fall far from the tree." As The Jeep Girls, only one thing could say, "we love you" like we would. Our dad loves cars!
We called up Rancho Jeep to schedule a test drive in the new Jeep Renegade. Brian Klein let us pick the color (we chose Colorado Red) and we took a Latitude FWD for a spin! At the first stoplight, the driver and passenger of the gray SUV next to us had their necks craned to check out our bright and fun beach-ready cruiser. The 1.4L I4 MultiAir Turbo Engine performed great on the highway. Compared to our Jeep Wrangler and Commander, the ride was responsive and exciting. For a little more power, we love that the 2.4L I4 MultiAir Turbo is available at the $21, 295 starting price for this model. As fashion aficionados, we girls loved the attention to detail on the vehicle's design inside and out. The hidden Jeep graphics made us feel as if the designer styled the Renegade just for us, and with as much care as the safety and security features. The Mopar available accessories are impressive as well. Check out the options for a topographical hood or your Alma Mater body side graphic accents. We dare to you try to count all the factory-included unique styling cues!
We had a great time cruising in the Renegade along the coast of Southern California and really want one to drive, or deviate from work. Before we commit, we want to explore the capable Renegade Trailhawk, as our friend Matt (previously an original Cherokee owner and now Renegade Trailhawk driver) suggests. We also are dying to check out the My Sky dual-panel sunroof. Dad says, "it doesn't look like anything else on the road." Our dad, who is a sedan driver for life, agreed that the Jeep Renegade is a unique subcompact SUV that maneuvers like a car, offers considerable ground clearance and, best of all, has great cargo space and load height. The trunk is actually very deep. We really enjoyed walking around, driving and getting a chance to check out this great new ride.
With Jeep on the mind, we took dad to check out a few more. The San Diego Jeep Club hosted its annual Urban Poker Run, an on-road geocache scavenger hunt around Fiesta Island on June 6. We were so glad we were able to attend this great family-friendly day once again. The San Diego Jeep Club (SDJC) does such a great job of highlighting unique sites near downtown San Diego. This year, we visited 4 Wheel Parts for Jeep and truck accessories in Chula Vista, and The Jeep Shack; both awesome supply stores in the area. The premise of the Poker Run event is to first gather a player's card that has clues to five locations in random order. Each Jeep races from one location to the next to draw a playing card to create a hand. The club awards prizes for the highest hand and lowest. We didn't win, or even finish our hand because we made a detour for fish tacos along the route, but we did have a great time doing it! The best part of the SDJC Urban Poker Run really is the people. After completing the scavenger hunt, all participants gathered back at Fiesta Island for a weenie roast. It's inevitable that friendships will be made. We said "Hi" to SDJC board members Scot Whaley, John Mantey and Mike Beulke, among others. This year, we met Patricia K Martinez Mihalko who said she can't wait to jump in the Jeep Wrangler and head on some adventures to Sedona, Arizona. We also met Nathan Detandt and his growing family. Nathan always wanted a Jeep Wrangler and bought a Crush-colored four-door JK after his buddy loaned him his while away on deployment. Nathan is taking his Wrangler on a road trip of his own en route to Jacksonville. We hope to see him and the fam' at Jeep Beach 2016 if he's not called to serve!
All-in-all, the quest for the perfect Father's Day left no stone unturned. We test drove sports, the best of culinary cuisine, road trips, Disneyland and Jeeps and "peeps." Each incredible visit had a few things in common however; we got outside, tried something new and did it as a team. No matter what your Father's Day plans bring, from our family to yours, we hope you enjoy each other's company. If family today is just a phone call, make it a good one! Being an inherent Jeeper, guy or gal, is about the people we share the memories with that make taking to the road more than a chore. We're glad to have shared this ride with our dad!
Until Next Time,
Happy Father's Day!!!
The Jeep Girls
Ashley & Brittany