Not everything the mail carrier puts in your mailbox is junk. So before you throw the mail out, take another look through the stack. Is there an envelope that looks like this?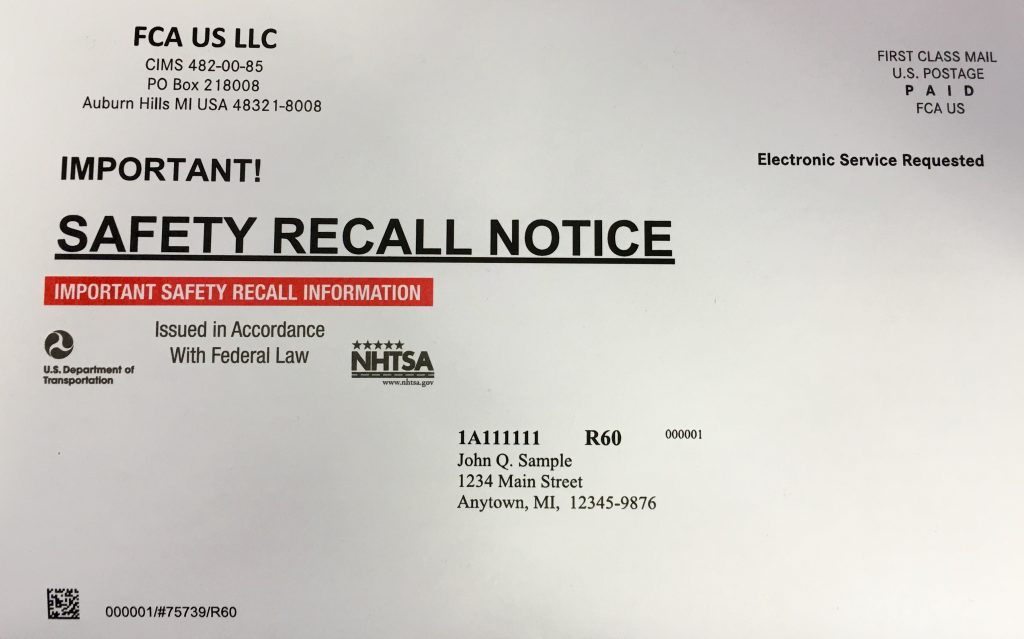 It's a safety recall for your Chrysler, Dodge, Jeep®, Ram Truck or FIAT vehicle. Please don't ignore it or set it aside. Call your dealer and schedule the free repair service.
Every recall is important. The details of all recalls and their remedies vary. Do not wait; contact your dealer immediately to receive your free fix. You do not need to bring any documentation with you.
Research shows that many people do not think that the recall notice is that important to their vehicle's function. Today's vehicles are safer than ever due to decades of work by automakers, suppliers and agencies such as the National Highway Traffic Safety Administration (NHTSA). The combination of enhanced safety, comfort and fuel economy helps explain why Americans are driving more than ever.
Completing a recall as quickly as possible ensures your vehicle will keep you on the road longer and provide the best driving experience.
Unfortunately, as many as one out of every four vehicles on the road today have an unrepaired safety recall. That's more than 58 million cars nationwide. We want to see that number reduced but we need your help.
Fast facts when it comes to recalls:
All FCA recall repairs are free of charge. Some even improve your driving experience.
It's against federal law for dealers to sell new with an uncompleted recall.
There were close to 900 recalls nationwide in 2015.
About 25% of owners of recalled vehicles never get the free repair. Participation rate is lowest among owners of older vehicles or if the vehicle was purchased used.
Even if you don't own one of our vehicles, please take a few minutes to check for any open recalls on the vehicles in your driveway at www.safercar.gov. It's easy; all you need is the Vehicle Identification Number, which is more commonly called a VIN.
Where can you find your 17-character VIN?
On your insurance identification card
On your vehicle registration card issued by your state's DMV
On a  plate on your dashboard, near the windshield on the driver's side
On your vehicle's driver-side door frame placard
For good measure, we urge you to check your VIN against the online recall database at least twice a year.
Vehicle safety is a priority for FCA US. We want you to enjoy your current car or truck – and the next one.