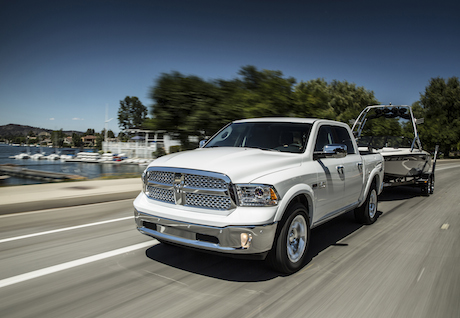 Can you really have your cake and eat it, too?
In a red-hot truck market, with fuel prices in a constant 'up one day and down the next' cycle, 2015 Ram 1500 EcoDiesel buyers know they can count on at least two things: best-in-class 28 mpg and much less time and money parked at the pump.
For truck buyers, that 'double dose' of fuel economy and capability has often been more of a dream than an option. The 2015 Ram 1500 EcoDiesel pickup changed all that – rolling diesel-powered capability and segment-leading fuel economy into a 'sweet' package of peak performance.
Class-exclusive air suspension, TorqueFlight 8-speed transmission, best-in-class aerodynamics and first-in-segment Fuel Saver Technology helped raised the fuel economy bar and push the 1500 EcoDiesel to number one of the top two fuel economy spots. Another Ram 1500 fuel-sipper, the 25 mpg 3.6-liter Pentastar V-6 owns the number two spot.
Pick-up buyers registered their hunger for Ram Trucks again last month with a double-digit sales increase for the Ram half-ton pickup segment of 31 percent.
So, looks like you can have your cake and eat it, too! Oh, and what's a cake without frosting? The 2015 Ram 1500 EcoDiesel packs a punch on the towing end at 9,200 pounds!