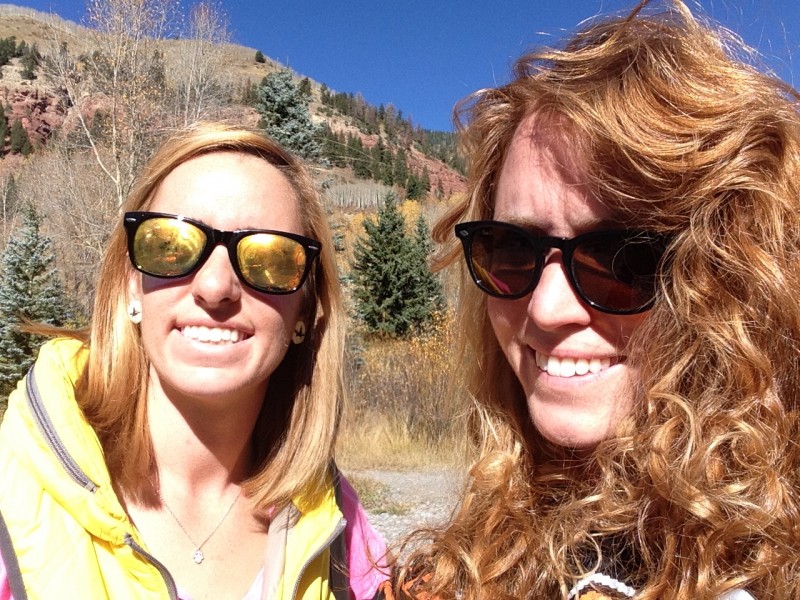 Brittany and Ashley Hill, "The Jeep Girls"
Have you ever prepared to go on an overnight adventure, and it happened to be much longer than expected? (YES!) Have you ever felt as if an energy vortex will not let you leave a place? (ALL THE TIME!)  In this case, Brittany and I took the road less traveled, learned a lot, and came home with so much more than we started!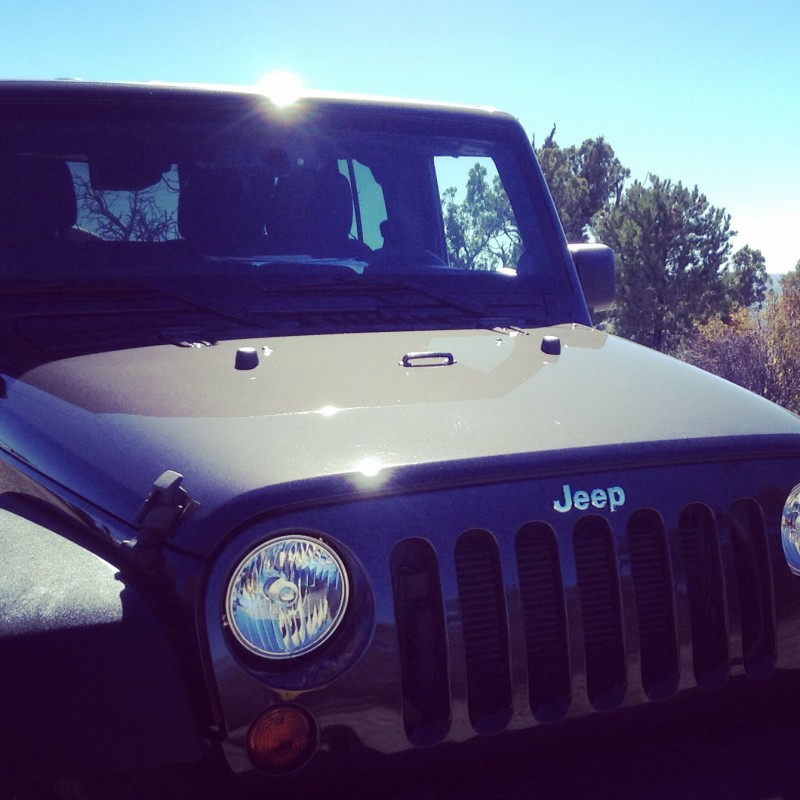 After our adventure in Chicago, travels took us to the great Rocky Mountains!  We packed our overnight bags, and made a special trip to Morrison, Colorado for Jeep On The Rocks, at the legendary Red Rocks Amphitheater. We literally jump at every single opportunity to go to this amazing venue!  It's tucked away in the red rocks, and just has this amazing sense of community as soon as you step foot in the venue!  It's like, together, we are all here for a secret party in this incredible place!
This year, right before the band took the stage at Jeep On The Rocks, musical group, X-Ambassadors had the opportunity to go off-roading with Jeep in the new Renegade TrailHawk!  The band spent the day experiencing Jeep's legendary off-road trail rated capabilities.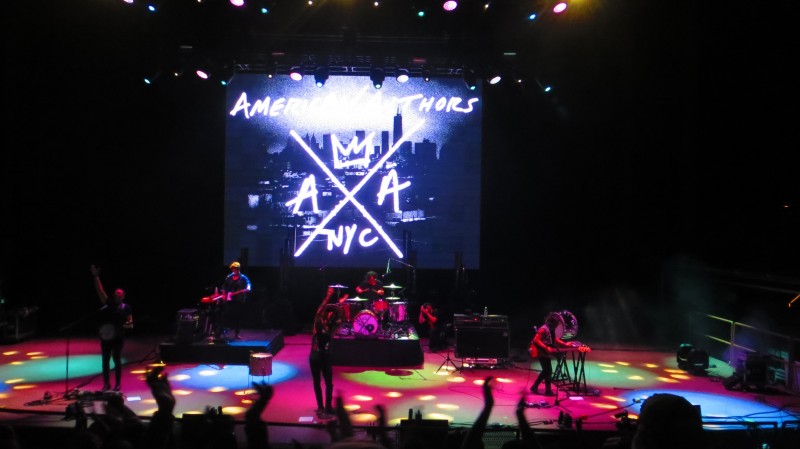 The group opened the concert at Red Rocks!  Unfortunately, by the time Brittany and I rushed over to the venue, we had missed X-Ambassador's set!  "It was such a sight to see 10,000 plus fans singing along to theRenegades!" said Tyler Ruby, Wrangler brand manager mentioned.  Brittany and I were bummed we missed seeing this great band perform in such an epic location!
Before Panic at The Disco took the stage, we had an opportunity to talk to X-Ambassadors backstage about what it was like to take their Jeeps on the rocks earlier that day!  They found the vehicle so capable and fun!  It's true, Jeep vehicles are fun, and that's why we love them!  Honestly, how can you have a bad day in a topless Jeep?
Brittany and I spent the evening jumping up and down, so excited to be at this amazing place with such incredible people!
We headed to the Hampton Inn Denver Airport to get some rest, for an adventure we were not expecting!  We woke up so refreshed and rested, and Brittany's wish of Hampton Inn's delicious bagel toppers was granted! At breakfast we pulled out a map, and realized that there is a lot to explore in Colorado.
This is how one night transformed into the tale of a road unwinding. We decided to head to Boulder to visit theCelestial Tea Factory!  This tea factory is so neat!  When you walk in the doors, you are greeted with a cup, and you can sample any of their 20 or so varieties of tea you'd like!  They also offer complimentary tours of their factory that explains the behind the scenes process of tea blending.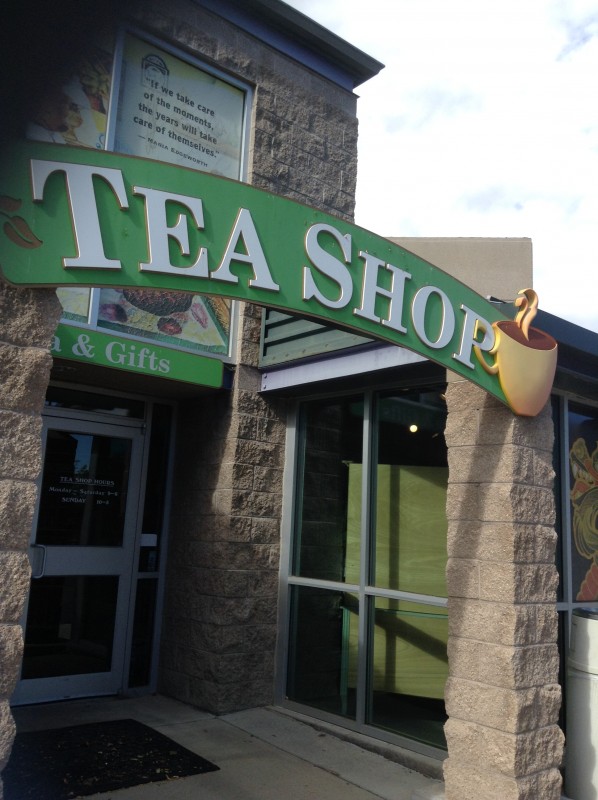 After we visited the gift shop, and bought almost every tea we sampled we headed to the Historic Hotel Boulderado.  Built in 1909, this historic hotel sits in the center of downtown Boulder, Colorado.  It's grand, opulent, classic, and simply beautiful!  The attention to detail at this property is magnificent, from embossed toilet paper to chocolates on your pillow!
We both woke up very rested, although Brittany's phone battery was drained. The last time that happened, in New Orleans at the Maison de Ville, Brittany said we may have had a supernatural visitor! With so much history encapsulated in the walls of an iconic hotel like the Boulderado, anything is possible, however if so, the ghosts of the Boulderado were very friendly.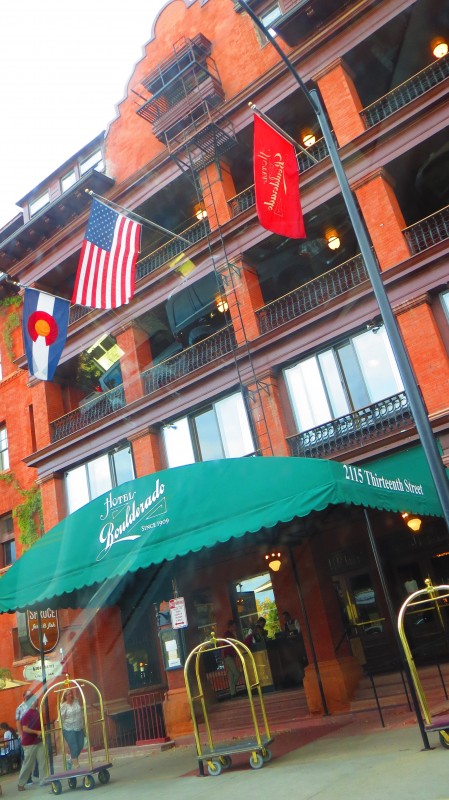 We met Boulderado Beverly for breakfast at the hotel'sSpruce Restaurant.  It is the longest continuously running restaurant in Boulder, as it opened its doors on New Years Day in 1909.  I had my favorite; Eggs Benedict and Brittany, the goat cheese scramble.  The food is delicious and the staff members are extremely welcoming!
Beverly has worked at almost every position at the Hotel Boulderado.  She brings the hotel so much character and personality!  She has such great stories about the importance of customer service.  One time she even took Robert Plant's laundry home to wash on Fourth of July, when the hotel's laundry service was closed.  We had such a great time visiting with Beverly!
Before we hit the road, she gave us some road trip snacks and coffee tumblers for our journey to our next stop, Grand Junction.  The road from Boulder to Grand Junction is out of this world!  It is so beautiful!  As you drive through the mountains, you will feel as if you are in the bottom of the Grand Canyon!  The road is flat, and winding, but on your way to Grand Junction, you can stop off and explore Aspen and Vail, as they are both on the way!
We connected with Mary, general manager of the Hampton Inn Grand Junction and fellow Jeep Wrangler owner!  She is a true embodiment of a "Go Anywhere, Do Anything" kind of a person!  She bought her Jeep so that she could travel to places where no other vehicles could go!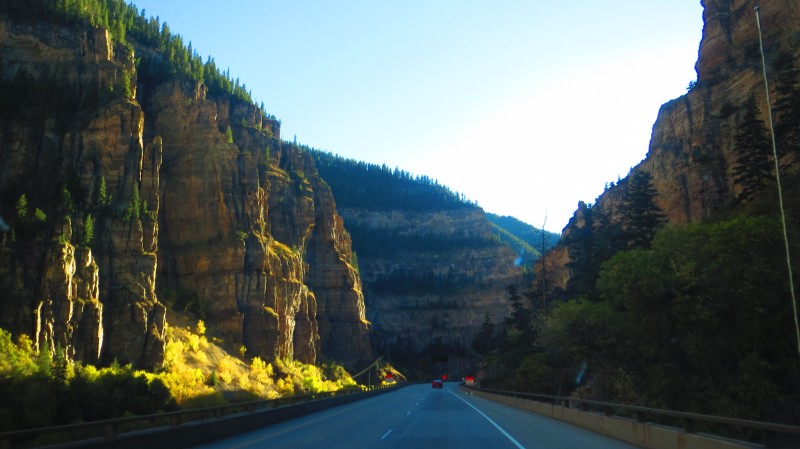 Before we dropped off our bags at The Hampton Inn Grand Junction, we met up with our friend Mike Edwards fromGrand Junction Chrysler Jeep.  We told him we were heading through the mountains, and in the spirit of fall, he equipped us with a Rugged Brown colored Jeep Wrangler Unlimited.
After another great night's rest, we met Mary for breakfast in the lobby.  We were delighted to see new breakfast items, such as Einstein's Bros Bagels, coconut and Reese's Peanut Butter Cups for waffle toppings, and raspberry, marmalade, and grape jam!  She recommended exploringRattlesnake Arches  before we head deep into the mountains.
We took our Rugged Brown Wrangler through the winding roads to our favorite Colorado town of Telluride.  This time, we stayed in the Mountain Village at the Fairmont Franz Klammer Heritage Place.  The hotel is exquisite in every detail!  As soon as we stepped foot in the door, we knew the vortex was real!  We were here in one of the most beautiful places in the world, and we did not want to leave!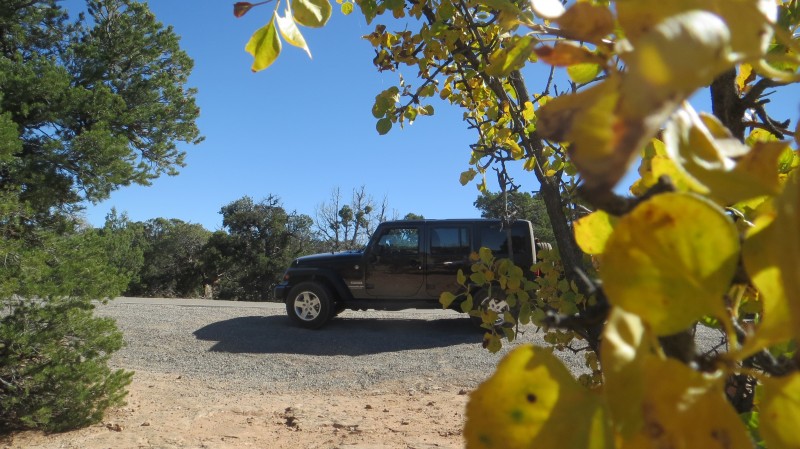 Brittany and I put on our Fairmont robes and made a champagne toast by the fireplace in our room, as we were so glad to be celebrating Brittany's birthday out here in the mountains!  We moved our acquired luggage to our separate rooms, unpacked, and relaxed!
The next morning, I woke up early and surprised Brittany with a special chocolate—cream cheese frosting and maple bacon-topped birthday cake that I whipped together in our kitchen in the condo at the Fairmont!  I was so pleased that every pan and cooking utensil you can imagine was there in the kitchen!  Not to mention a Sub-Zero refrigerator and Viking stove! Talk about top of the line, and just awesome! Brittany and I fought for time in the kitchen.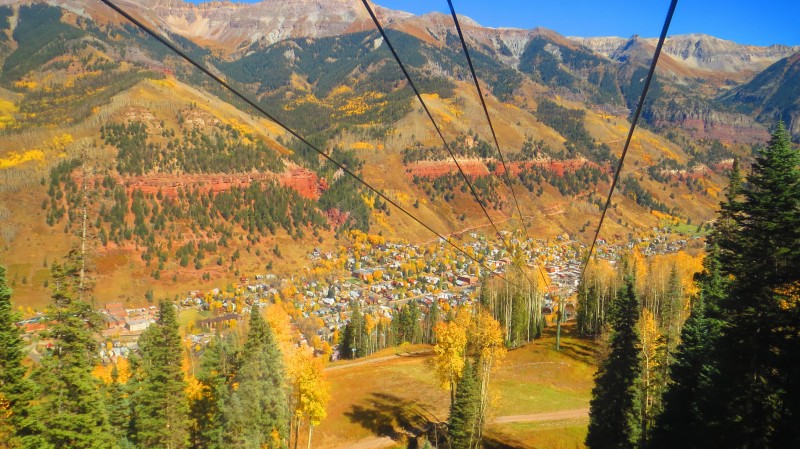 We spent the day exploring Telluride and visiting our favorite places!  We stopped at South Oak 221 for Carley's pumpkin chiffon butterscotch and toasted marshmallow pie and steak tartar (not in that order), and we even had an opportunity to explore the Aspen tree's fall colors as the Aspen trees turned bright yellow just outside of town.
Before the night was over, we headed to Club Red for an Intimate Evening with Matisyahu.  Club Red is so convenient and centrally located to everything in Mountain Village.  Within 2 minutes, we were inside the venue.  Club Red is a listening room where guests have an opportunity to be up close to the performing artist.  Matisyahu put on a great show in the mountains!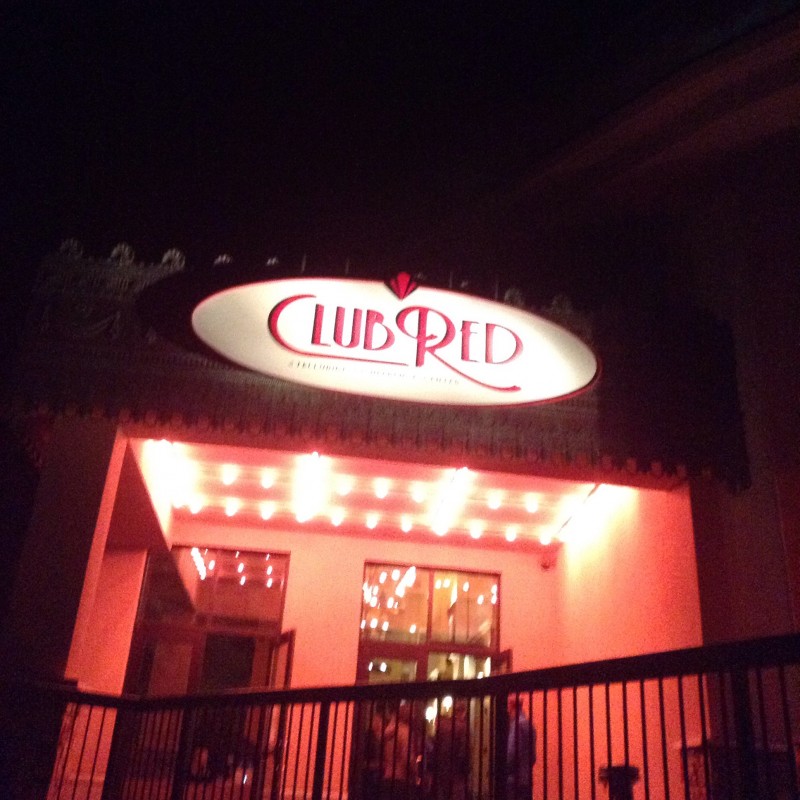 On our last morning, once we packed up all of luggage from our one-night-turned-week adventure, and we were experiencing the pull of the vortex once again!  Andy, at the Fairmont said "the battery seemed to have died, but don't worry I charged it."  However, by the time we got in our Wrangler, the battery had died again.  We took it as a sign that it was going to be difficult to leave Colorado; that vortex was trying to keep us there.
Within a few minutes, Heather had jump-started us, and we were en route to Grand Junction.
Our trip to Colorado was one that we could not have really planned.  It was a spontaneous adventure that turned out way better than expected!  We learned that it is so important to be adaptable to every situation.  We even learned the importance of carrying and knowing how to use jumper cables. You can only learn from "road blocks", dead batteries, and barriers. When you're in a Jeep, it's just part of the adventure.
Until next time, remember that life is an adventure!
Character is based on how you handle those moments that are thrown at you!
We'll see you out there!!
Brittany & Ashley
The Jeep Girls