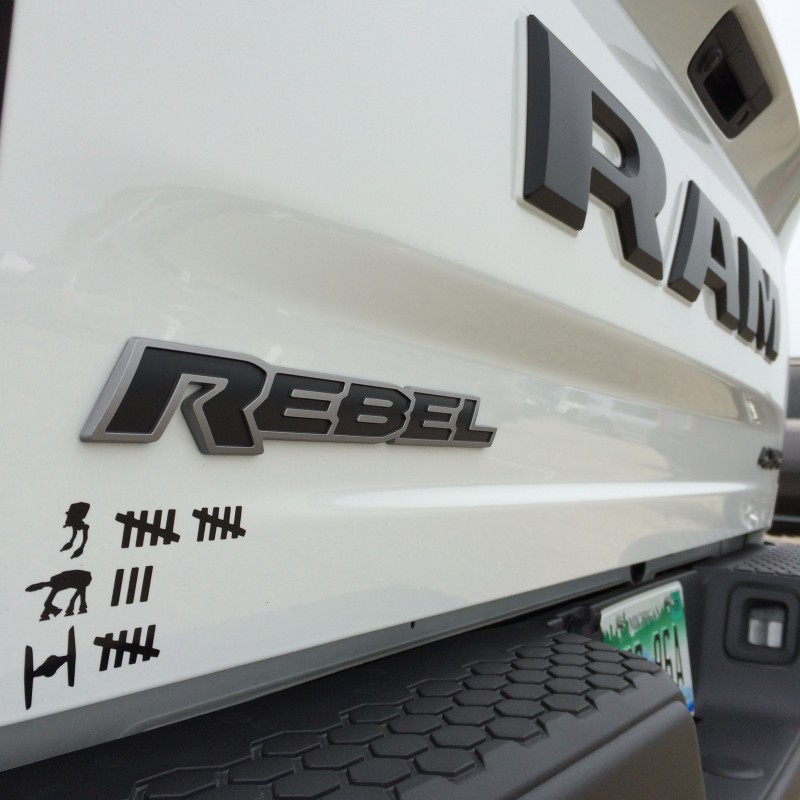 For most of us at Fiat Chrysler Automobiles, we don't have "just a job." There's a personal passion that goes into our work and, often, our designers and engineers put their own personal touches into the vehicles they develop for you.
One prime example is Ryan Nagode, Ram Truck, SRT and Fiat North America chief designer for interiors, and his Imperial "kill count" on his new Ram 1500 Rebel.
"Attention to detail is bar none in the Star Wars movies and I think that's also why I make a connection with those movies," Nagode said. "I've tried to make sure all of our Ram trucks feel special and unique and that is nowhere else more true than the 2015 Ram Rebel 1500."
A die-hard Star Wars fan, Nagode said his thoughts immediately went to the movie franchise as soon as it looked like the new Ram 1500 was going to stick with the Rebel name. It wasn't long before Nagode was planning his own personal touch to his 1500 Rebel.
"As soon as the exterior colors were starting to be developed and coupled with our interior theme, I was hooked on the white and black," he said. "It's a motif that, in a lot of ways, is reminiscent of the many vehicles and characters from this franchise found on the silver screen."
The type of enduring impact that movies like Star Wars have is something Nagode says inspires him in his day-to-day design work. "I think one of the hardest parts in designing a vehicle is the timeless quality you want them to have," he said. "Like with all the generations that have seen and been touched by these movies, I want to have that same lasting impression on consumers who buy and experience our trucks."
Of course, being the creative type, Nagode can't be done with the Star Wars transition of his personal Ram 1500 Rebel, right?
"I have a few other touches planned," he told us, "and want to keep the references subtle but recognizable. I can't wait till its Halloween time though."
NOTE: We're not the only whose interest was piqued by Ryan's Rebel, which was spotted at our 2015 What's New event. For another view, see Tim Esterdahl's story on PickupTrucks.com.