Did you know it's free to ride the Catalina Express to Catalina Island on your birthday?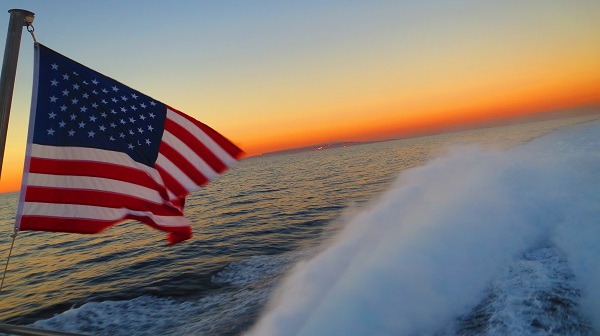 This is the fourth consecutive year that The Catalina Express is offering this fun birthday treat! This year, in celebration of our birthdays, my birthday buddy Fred Williams and I headed to Catalina Island, which transforms into "Birthday Island" on your actual birthday!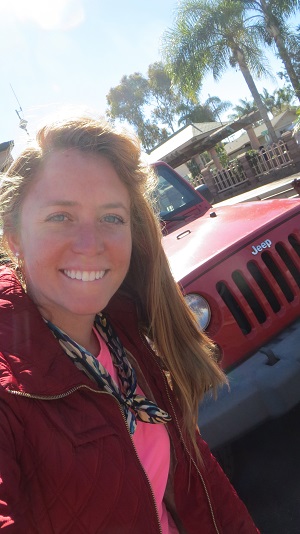 Brittany and I drove our Jeep® Wrangler up to Carlsbad, where I jumped on the train and headed to Long Beach to kick off the island festivities.
The Catalina Express offers 30 departures a day to Catalina Island.  We sat in the Commodore Lounge where we ate oatmeal raisin cookies and had a toast to being one year older! The quick 22-mile relaxing trip takes just about an hour. As soon as we stepped foot off the boat in the quaint town of Avalon, we were in another world! This is paradise! We could not believe how close we were to Southern California, but yet so far away.
Once we retrieved our luggage, we walked four short blocks to the beautiful Avalon Hotel. The hotel surprised us with a bottle of sparkling wine in the spirit of our birthday celebration on Catalina Island. After a brief tour of the hotel, we headed to one of the city's newest restaurants, Bluewater Avalon. We sampled the delicious scallops and swordfish!  Overlooking the ocean, this restaurant has a very fun atmosphere!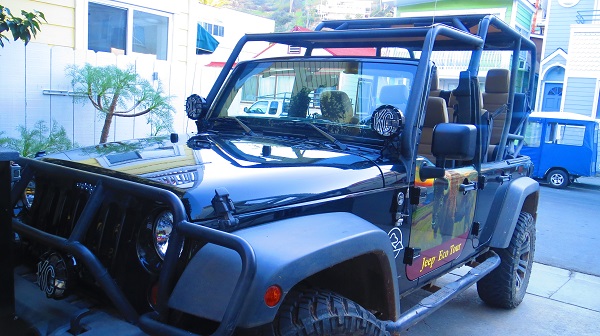 After planning out our adventure, we had a wonderful continental breakfast in the garden patio next to the fire pit at the hotel, stopped for our free birthday coffee at The Catalina Coffee and Cookie CO. and headed to the Catalina Island Conservancy for a three hour Jeep Eco Tour of the island's interior. Our guide and naturalist took us to the Catalina Airport, Little Harbor, and Middle Ranch. He told us that some of the plants and animals are indigenous to Catalina Island. We also learned that in 1924, fourteen bison were transported to Catalina Island for a movie. We found out rather quickly that the bison are still on the island today as one happened to cross our path! (Below.)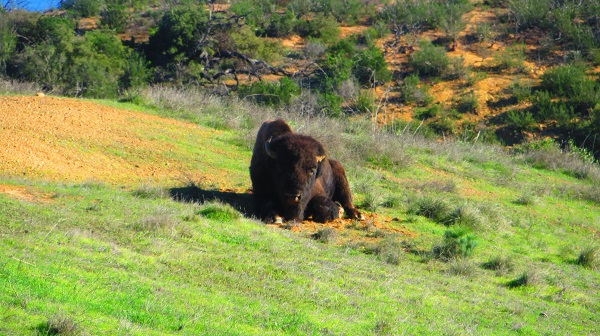 We even spotted the Catalina Island fox, which is also endemic to Catalina Island. A Jeep Wrangler is the perfect vehicle to explore the island's interior. The Catalina Island Conservancy has many programs developed to keep the island's natural world in tact.
After our scenic tour of the interior, we headed to Descanso Beach club for The Santa Catalina Island Company's Zip Line Eco Tour. Our guides Kris and David taught us the ziplining fundamentals, and assured me that it would be a thrilling adventure! Once I heard that we would reach speeds of 45 miles an hour and propel 300 feet above Descanso Canyon, I knew I was in for a wild experience!  We rode on five separate zip lines, and every time I stepped off the platform, I closed my eyes, took a deep breath and once I knew I was flying across the canyon, I realized that it was safe to take a look around and enjoy the view.  It's very different from off-roading. When you are ziplining, you can not feel the ground beneath your feet.  I'm glad to say, that I'm excited to zip line again!
Once we made it back to the ground, we stopped at The Lobster Trap for dinner. We couldn't resist and tried the California spiny lobster. These lobsters differ from the North Atlantic lobsters in that they do not have front claws, so most of their meat comes from the tail. We also sampled the seafood pasta in the signature pink sauce and the monkey balls (you'll just have to visit to try this special treat).
On our final day on Catalina Island, we rented a golf cart from Catalina Auto and Bike Rentals to cruise to the Wrigley Mansion and to the oldest golf course in Southern California. The 9-hole golf course was established in 1892. Catalina Island has a restriction on the number of automobiles that are allowed on the island. Currently there is a very long wait list to bring a car on the island, although, each house hold is allowed an autoette, which can only measure 120 inches long and 55 inches wide. We parked our golf cart next to a CJ to compare (below right).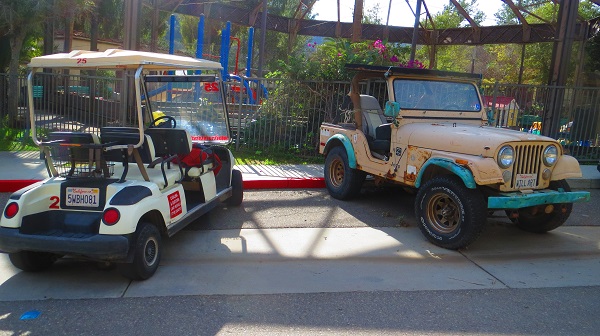 Before we jumped back on the Catalina Express, we stopped at Lloyd's of Avalon for a free scoop of birthday ice cream. I had mint chocolate chip and Fred tried the cookie dough.  We were very sad to leave Catalina Island. We know we will have to visit again next year, as there are still many birthday festivities that we didn't have time to try!
Until next time, have a wonderful birthday! It's a new year, so you are sure to celebrate one!!
And remember, just like Warren Miller always says, "If you don't do it this year, you'll be one year older when you do."
We'll see you out there!
Ashley & Brittany Hill
The Jeep Girls