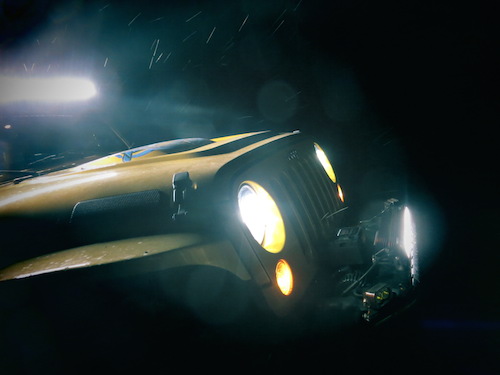 For Brittany and I, the holidays are about getting together with our family, visiting our friends, and going to see the latest Warren Miller film, "The Official Start of Winter."  This year, we saw "There's No Turning Back", Warren Miller's 65th annual ski film.
Every time we see a new film, we are inspired to jump in our Jeep Wrangler, head to the mountains, and get in the snow!
With the holiday season in full swing and National Ugly Sweater Day upon us, Brittany and I decided to celebrate with some Ugly Sweaters.
We ran across Mike Golomb, the owner of The Ugly Sweater Store.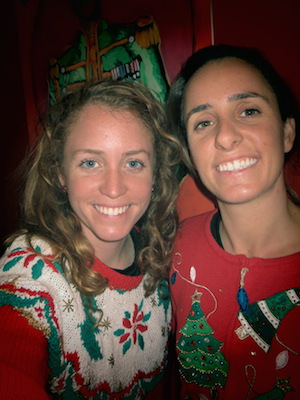 After being inspired by fun and silly holiday sweaters, he created The Ugly Sweater Store. Mike did all the shopping for us, decking us out in fun festive sweaters! We love his story!
We heard the snow was falling in Spokane, Washington, so we sketched out a map, made a plan, called up our fellow Mountain Researchers, and dove in…headfirst!
We stayed at the beautiful Hotel Ruby in the heart of Spokane. The Hotel Ruby has everything that a weekend adventurer could want! Every room is artistically furnished with a refrigerator, microwave, and a delicious continental breakfast.  After trekking in the snow all day, I couldn't help but think about waking up to a warm and buttery English muffin.
After exploring beautiful Spokane, and visiting with Anny and Elisa at The Hotel Ruby, we realized that there is a Hotel Ruby 2. We wanted to get the full experience, so we schlepped our bags two blocks down the street to visit the Ruby's sister property. Both hotels are very comfortable, affordable, stylish, artistic, and very fun places to stay!
We caught up with our friends from Offroad Power Products, meeting owner Bryan Howell and his wife Mizu, checked out their beautiful shop, and saw Copper's new awesome yellow 1979 Jeep Cherokee Chief Levi Edition.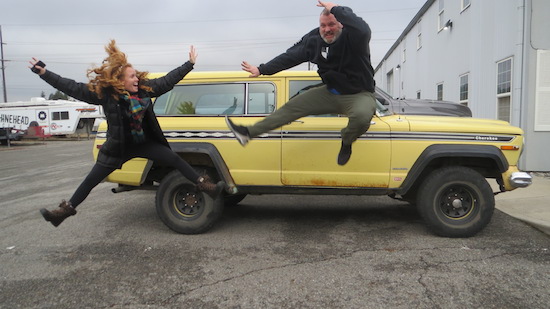 We met up with our Mountain Researchers and off-road experts Fred Williams and Mike Kim in Spokane, put on our Ugly Sweaters, jumped in Mike's new Amp'd Jeep Wrangler, and headed to the mountains in search of Sasquatch.
We had a blast snow wheeling!  Imagine strapping on your skis, listening to your favorite tunes, and being with your best friends in the mountains.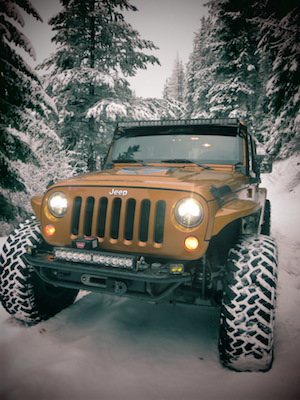 The air is calm and cool, and you're enjoying every moment of winter! Yes! This is the feeling we experienced in the heart or the mountains!
After a wonderful afternoon in the mountains, we stopped for buffalo burgers in Wallace, Idaho. On our way back to Spokane, we headed through the trees with Mike's ultra bright lights. Unfortunately, we did not find Sasquwatch, but we did see a shooting star on our way home!
As the Holiday Season is upon us, remember to bust out those favorite Ugly Sweaters and make time for your family and friends!!
We'll see you out there!!
Ashley & Brittany
"The Jeep Girls"