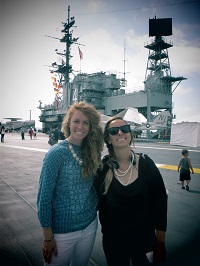 Greetings from California, a home to the "happiest place on earth!" For the summer, the official start of 2014, we left the heat behind and headed further west to southern California. Ashley and I discovered along the way that the drive from Phoenix to San Diego can be described in one word: hot. The region, however, is not as simple to explain.
During this trek, we entered a region rich with military history, as well as diverse neighborhoods, offering great food, classic cars and courage, or as some like to say, "cajones!"
Our Flame Red Jeep Wrangler (whose nickname is constantly changing) needed to stretch its sea legs and visit the Pacific. In 2012, we drove our Jeep Wrangler from the heart of America to the Atlantic, even venturing through New York City, but this was the first time it had made the journey to sunny California. The highways and byways remind us that the United States is ultimately interconnected, and will and wheels can take you anywhere. We stopped in Yuma, the halfway point from Phoenix. Here we discovered that it does get hotter than Phoenix! San Diego has more to offer than great waves and perfect weather. Here there is a culture that truly makes us proud to be American. There are men and women who live their days in and out upholding mottos such as "That Others May Live." We met Scot Whaley, retired from the U.S. Navy and currently facilities manager at the USS Midway Aircraft Carrier Museum. The Midway is celebrating its 10th anniversary as naval ship turned museum, and is a great way to experience life at sea for a day. The Midway was the largest ship in the world until 1955. She was decommissioned in 1992 and began her journey in 2003 in preparation for use as a museum and memorial.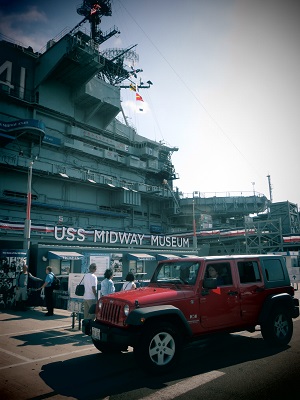 Ashley and I will likely never experience life in the armed  services, but we were so glad  to have checked out the USS Midway.

It was no surprise that Scot was a Jeep Wrangler owner himself. He showed us his very well-loved and cared for Jeep Wrangler TJ, complete with "Jeep wave" mirror decals. He also mentioned the San Diego Jeep Club's, which Scot is a founding member of, first-ever Poker Run.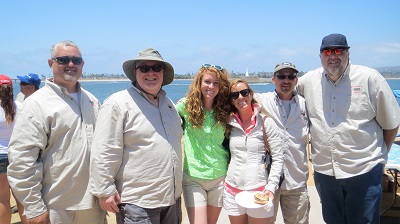 Ashley & Brittany with the founding members of the San Diego Jeep Club
Saturday morning, we took our Jeep Wrangler and Jeep Commander on an on-road adventure to Fiesta Island to meet the San Diego Jeep Club for their Poker Run. We didn't know what to expect. We were given a list of geo coordinates, scrambled names and a deadline. The objective was to have the highest hand of cards as picked out of multiple bags upon reaching a location. We didn't win, but we had a great time doing it and that's what Jeepin' is all about! We met great people along the way, such as Deborah and her husband who won the award for the newest Jeep owners. They bought their Jeep Wrangler to embark upon a new life in Puerto Rico.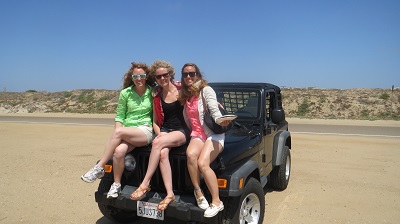 Ashley, Brittany and Deborah Eastman (newest Jeep owner)
Our final must-do was to head to Irvine. We stayed at the newly renovated Residence Inn John Wayne/ Orange County. The staff twisted our arms to sit poolside for burgers and beer upon arrival. Moments like this remind us to relax and stay happy! Being a Jeeper is about the road, family and the stories we gather. We clanked glasses, glad to have each other and great family and friends, no matter whether that be in a hotel or in the place we call home.

Finally, we headed to Little Saigon. This area of Orange County is about three miles and packed with roughly 4,000 Vietnamese establishments. The Banh Mi masterpieces of crunchy French bread layered with pate, ham, pickled vegetables and cilantro are a must.

As we headed back to Phoenix, we said good-bye to some very good things. Yet, as we headed back through hotter-than-hot Yuma, Arizona, we knew there is much more to come.

Until next time, remember to always "Have fun out there!"

New and very exciting adventures await!

Brittany and Ashley
The Jeep Girls