In an effort to chase the full "Flower" moon, Brittany and I went on an "overlanding" adventure! We didn't know what to expect, but as any adventurer will tell you, that's part of the adventure.
I made a road trip mix, grabbed a couple of dusty sleeping bags, and our new tent. We busted out our matching safari backpacks, neon colored wardrobe, and jumped in our Flame Red Jeep Wrangler Unlimited. A wise man once told me, "The more prepared you are, the less adventure you will have." With plenty of room for patience and flexibility, we headed North on I-17 to Flagstaff.
On our scenic drive, we experienced an unexpected road delay on I-17. As we were stopped on the highway for a few hours, we met some new friends from Illinois, shared radio tunes with our neighbors, and Brittany patiently removed the cactus spines my hand, (from my solo adventure across the guardrail).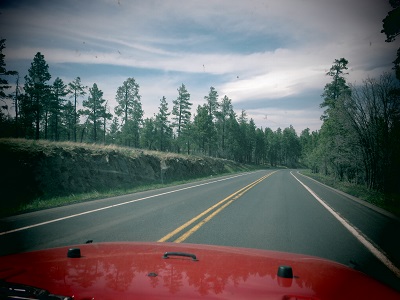 After six hours of road tripping, we finally made it to Mormon Lake! We walked around Overland Expo, and instantly became inspired by the beautiful "overlanding" tents, campers, and expedition vehicles. We spent the weekend with incredible real-life pioneers that are always seeking their next expedition. 
After our weekend "overlanding" we decided to travel back in time to the Old West. We found our selves on Route 66 in the historic town of Williams, Ariz.! We left the unopened tent in our Jeep Wrangler and stayed at the beautiful Grand Canyon Railway Hotel. After sharing a delicious piece of chocolate banana cream pie, we ventured through historic Route 66 collecting postcards and visiting with the local shop owners that told us about the amazing people that have passed through Williams.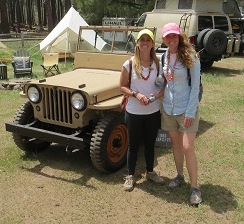 The next morning, we woke up early for our adventure to the Grand Canyon. We started our day with a real life Wild West gunfight at the Grand Canyon Railway Depot, orchestrated by the famous "Buck" Williams. He is a man of many talents, he is also in the Guinness Book of World records for bullwhip.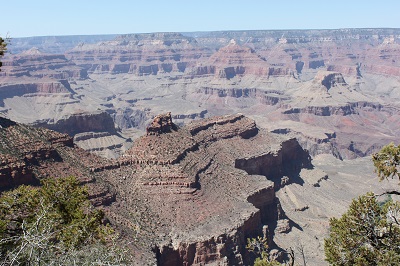 After the entertaining show, we boarded the Fred Harvey train car on the Grand Canyon Railroad. We enjoyed a scrumptious morning breakfast of pastries and coffee onboard the train as we read about Fred Harvey's story. Fred Harvey was an entrepreneur who saw a need for quality hotels and restaurants as "overlanders" traveled Westward. To this day, The Grand Canyon Railway and Hotel remains true to Fred Harvey's legacy.

As we were exploring picturesque views on the train, we saw a group of antelopes that was trying to keep up with the train. Before we knew it, we were at the Grand Canyon!! As one of the Seven Wonders of the World, it is a spectacular destination that everyone should visit! It is best to see by train on The Grand Canyon Railway.

On our train ride home, as we were celebrating with an evening champagne toast, we were visited by the train robbers. They rode their horses along side the train, which made for awesome photos. Somehow, they made their way onto the Fred Harvey car! Luckily the pockets on my "overlanding" backpack were too complicated for the robbers!

As the sun was setting, we made it back to Williams and ate another wonderful piece of pie! It's all part of the Route 66 experience!!

Until next time, Happy Trails!!!

We'll see you out there "OVERLANDING!"

Brittany & Ashley Hill
"The Jeep Girls"