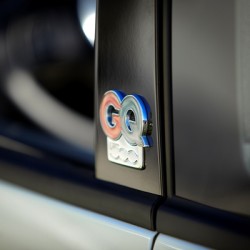 Italians are known for their sense of style and GQ Magazine is known as a style authority. What happens when you combine the two? The new 2014 Fiat 500c GQ Edition.

The new Fiat 500c GQ Edition showcases the design talents of the FIAT brand and when fused with GQ, the result is a Cinquecento that reflects an athletic yet style-conscious lifestyle, world-class Italian design and a sharply tailored appearance. 

When given the task of capturing the pages of GQ and transforming them into the Fiat 500c GQ Edition, designers at Chrysler Group used their love of fashion to create custom features.

Think of a hand-tailored tuxedo as we take you behind the scenes of this GQ-inspired photo shoot in and around Los Angeles, California. 

A few of the designers behind the new Fiat 500c GQ Edition share their inspiration for this truly fashionable Fiat 500.

See our Flickr set for more images of the 2014 Fiat 500c GQ Edition.