We have new furniture!
Why is that newsworthy? It demonstrates our deep-seated commitment to improving productivity.
FCA US LLC headquarters in Auburn Hills, Mich., is the largest office building in North America, after the U.S. Pentagon. Visitors can walk for eight minutes at a steady clip without ever changing direction – all under a single roof.
Known as the Chrysler World Headquarters and Technology Center, the site is currently home to more than 14,200 employees. Open 'round-the-clock, it is the only headquarters of any major automaker that can support the complete range of auto-industry functions.
These include design, engineering, component fabrication, system validation, marketing and finance. Even full vehicle production, thanks to the unique site's 170,000-square-foot pilot plant.
Such activity demands a level of collaboration that is commensurate with the auto industry's increasingly frenetic pace. That means meetings on the fly and real-time information-sharing between stakeholders from multiple disciplines.
Enter Glenn Hoffrichter, an architect by trade, and his FCA US facility management team. Connectivity has transformed the modern workplace, he says, adding: "The days of being tied to a desk are behind us."
Connected devices are now the ties that bind.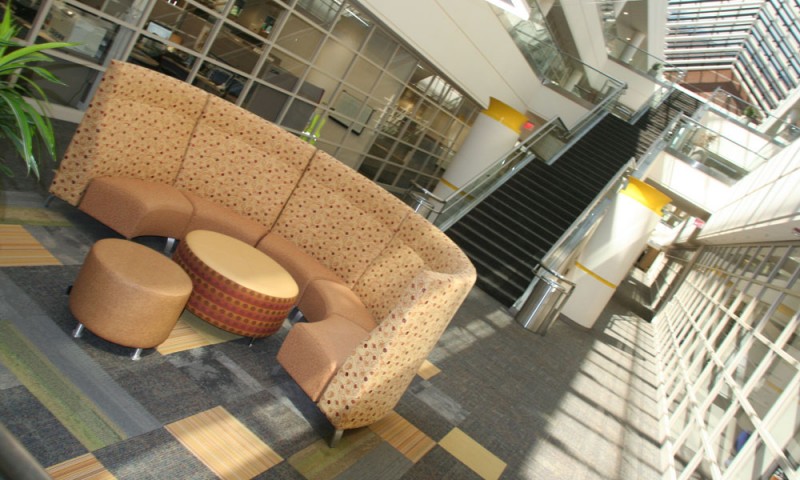 In particular, Millennials – arguably the most skilled multi-taskers of any generation – thrive in fast-paced environments that afford flexibility to move about. This observation is echoed in "Facing the Millennial Wave," a recently published study by celebrated real-estate firm Cushman and Wakefield.
"Today, progressive real estate and facility professionals design work environments that balance privacy and collaboration and provide choice for employees to work in different ways depending on personality and the needs of a given task," the study says.
Millennials account for 16.3% of the workforce at CTC. And that proportion is growing.
Accordingly, more than 40 "collaboration pods" have been set up in the building's expansive concourses.
They feature a range of chairs, couches, tables, stand-up desks and white boards.
Bathed in sunshine during the daylight hours and illuminated by energy-efficient fluorescent lamps at night, these open-air spaces serve as impromptu meeting rooms. With a healthy dash of flair.
CTC is a place where you don't dread meetings.