Brittany and I trekked from San Diego to Pittsburgh to find the birthplace of Jeep. When we mentioned that we were going to attend The Bantam Jeep Heritage Festival, American Legend and expert 4×4 driver Rick Pewe said, "Well…IT IS the 75th Anniversary!" At that moment, we knew there would be a lot of special surprises on our journey!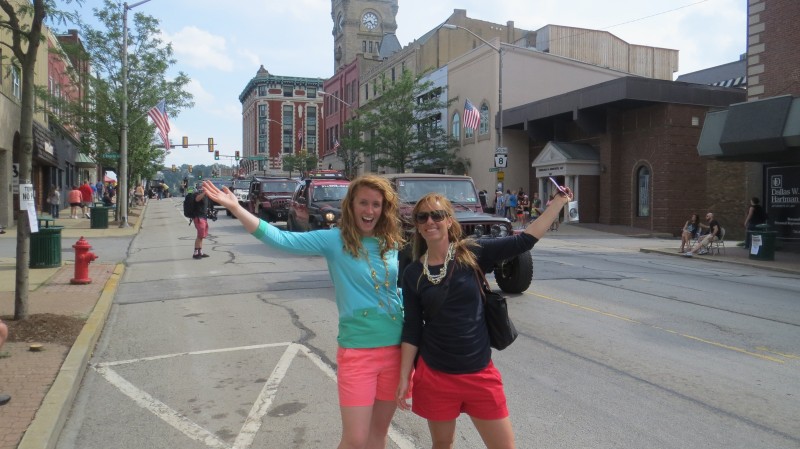 Rick Pewe set us on a mission to find Leeland Bortmas. He gave us clues as to where we might find Leeland, but like any scavenger hunt, you just never know what you might find along the way!
Our adventure started with a stop at Diehl of Robinson to check out their new Jeep vehicles. We met Matt Metzger, he talked about his passion for Jeep Wranglers, off-roading, and the neat accessories that make each Jeep vehicle unique. We test drove a Bright White 2015 Jeep Wrangler Sahara Unlimited. We absolutely love the caramel and black interior color combination and the power outlet for our camera underneath the center console was so handy!
Our next stop was to KDKA Newsradio 1020 to meet with Robert Mangino and Shelley Duffy. We had a fun time visiting with them and talking about The Bantam Jeep Heritage Festival, importance of preserving history, and inspiring people to follow their own dreams.
Our home base for our escapade was at the Hilton Garden Inn University Place, centrally located to just about everything in Pittsburgh. After we dropped our bags, we met up with fellow Jeep driver, David Della Chiesa. He took us to Mount Washington to view Pittsburgh's golden sunset. We had such a fun time catching up, laughing together, and planning new global adventures together!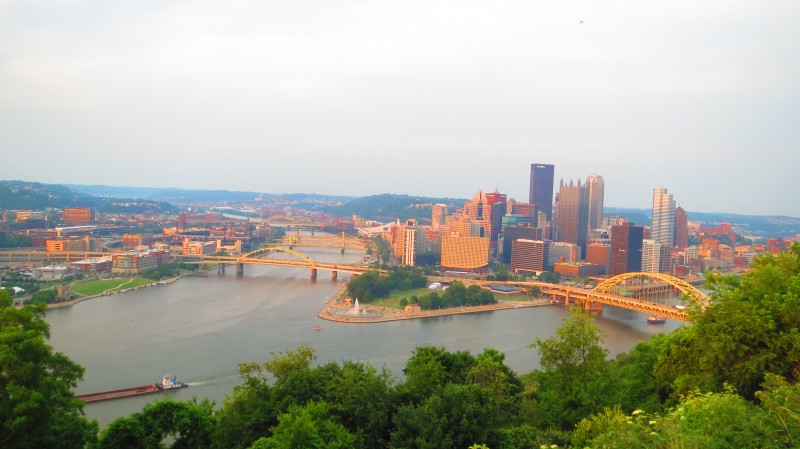 After a good nights rest and getting acclimated to the Eastern time zone, our senses told us that we needed to head north.  We followed our noses to the historic town of Butler, Pa. In celebration of 75 years of Jeep, the Bantam Jeep Heritage Festival held the Guinness World Record Parade with 2,420 Jeep vehicles! The first 75 in the parade represented every year from 1940 to 2015! Then the Jeep vehicles started filing down Main Street full speed, two by two! It was wild!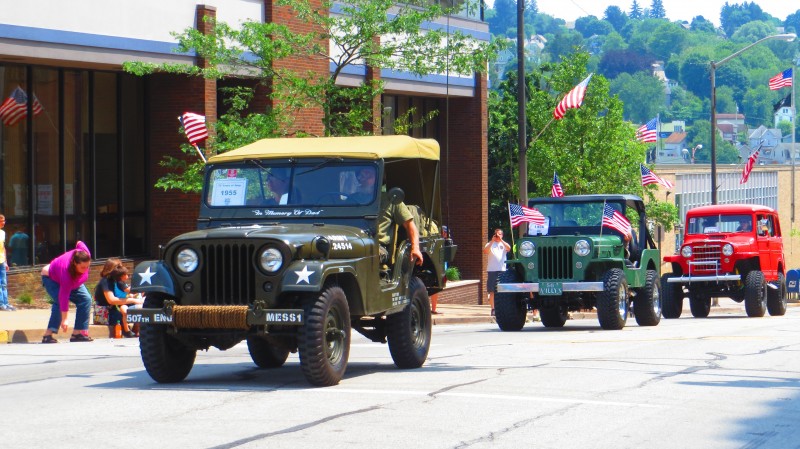 The first Jeep in the parade was developed by Duncan Rolls, it was a re-creation of the Bantam Reconnaissance Vehicle. As soon as I snapped a picture of this one-of-a-kind creation, I looked up and a Jeep from 1959 had just passed me by!  These Jeeps were rolling in FAST!
Brittany had darted to the end of the block to find what appeared to be Leeland Bortmas (Rick Pewe never mentioned that it would be easy to find Leeland). Out of breath, Brittany seemed a little sad that both Leeland and Duncan were completely out of sight!  We decided to walk down the cobble stone alley by City Hall, and as soon as I pulled out my camera to snap another picture, Duncan Roll and Leeland Bortmas pulled right up to us in Roll's Bantam recreation! It was incredible! It was almost as if we had planned to meet there at that exact moment.  As soon as we introduced ourselves to Leeland, he said, "It was meant to be!"
We told him we wanted to see where Jeep originated, and he said, "Let's go! You've got a Jeep? I'm ready!" Leeland jumped in our Bright White Sahara and said with a smile, "These Jeep Wranglers have really come a long way! It is so smooth and luxurious inside! Wait! Now, turn here! That's it! We found it!"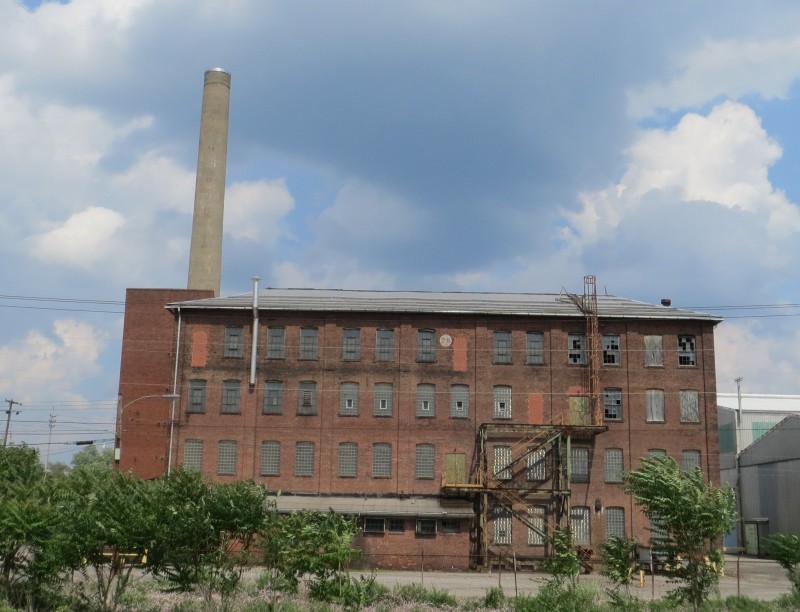 Leeland had taken us to the original Bantam Administration Building. He mentioned that the Bantam Factory had been torn down, but this is where is all started, right here, at this very spot in Butler, Pennsylvania.
Leeland served as our tour guide as Jeeps continued to cruise down Main Street! It was amazing to see old friends and new friends from all over America proudly drive down Main Street to show their Jeep pride! It was beautiful!
On Saturday, we spent the morning cruising through Oakland, the area in which Mister Rogers' Neighborhood was filmed. Then we headed to Cooper's Lake for The Bantam Jeep Heritage Festival!
We visited with Craig Jaros from Quadratec who gave us a front row vantage point to check out a variety of Jeep vehicles fly through the mud!  Then we met up with Henk Van Dongen and Dave Logan from Omix-ADA in the History Exhibit Building. Dave Logan took us through their Jeep collection that lives in Atlanta. It was very fun to hear Dave's stories from Mark Smith, it actually gave me goose bumps, because the last time Brittany and I had seen the collection was with Mark Smith.
After exploring the History Exhibit Building and History Speaker Series, Brittany went on a trail to see the Jeep vehicles in action, and I went to explore the WWII tents and look for the 75th anniversary birthday cake!
Before the sunset, we made a few stops in Pittsburgh. We met Jeff and Dominic of CoStar Brewing. These guys are following their passion, working full time jobs while creating wonderful beer to share with the community! On Saturdays, you may be able to find them brewing 30 gallons of their latest creation! We can't wait to find their beer at the local watering hole!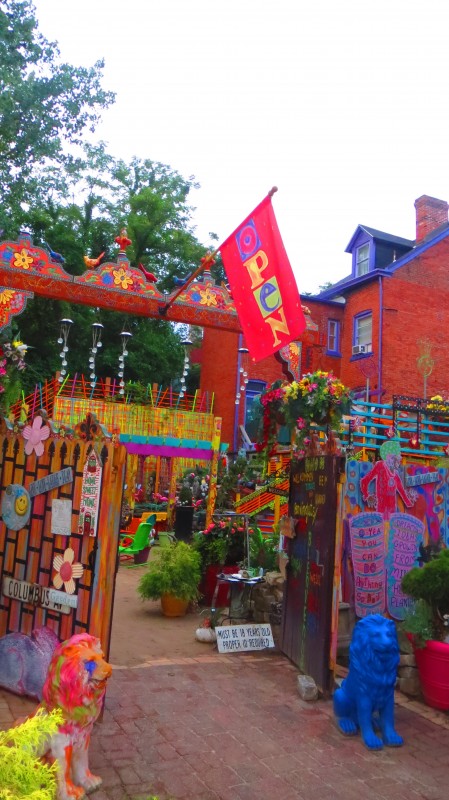 Our next stop was to RandyLand. We knew we were in the right place when we saw colorful art all over the buildings!  It was magnificent! Out from the courtyard, came this wonderful man with paint splattered shorts and a paint splattered shirt. He said, "It's me! Randy!"
He gave us a big hug and showed us that the big tree across the street represents our parents and teachers, and all of the limbs and branches are the dreams that we have. With a huge smile, he reminded us that everything is possible, and told us that if we can dream, it will happen! Randy Gilson is living proof of that you can create the world in which you imagine!  To put it simple, he is living a very vivid and colorful life, and it is amazing!
Randy has created RandyLand for the community so that people have a place to reflect, dream, perform, and create.  He has collected found objects, repurposed them, and given them a new stage to shine on. His creativity and ingenuity will inspire anyone that walks into RandyLand that anything is possible! He reminded me the importance of thinking outside the box and looking at every situation with a little color!
Brittany and I can not wait to visit Pittsburgh again! There is still so much to see and experience!  We've been inspired to look at history with bright elements of color!
We're getting ready to kick-off the next part of this wonderful birthday celebration! And YES! There WILL be cake!!
Until next time, remember to always have fun and add a splash a color to your tomorrow!
We'll see you out there!!
Brittany and Ashley
"The Jeep Girls"