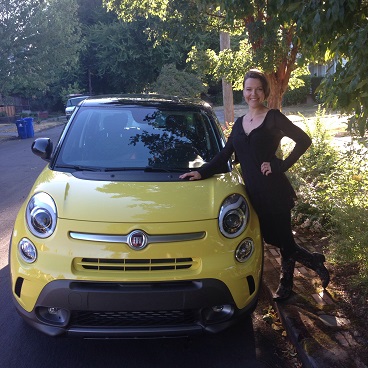 It's not too often that a customer loves a product enough to sit down and write a letter. Sure they may tweet about it or post a picture to Facebook, but to actually sit down and write a lengthy email that gets to the right people can be a little tough to do. But this email started in Portland, Oregon, went to London, England and eventually landed in my inbox here at Chrysler Group headquarters in Auburn Hills, Michigan.
It's from a customer who not only loves her Fiat 500L, but who also turned out to be a wonderful little pen pal over the last month. I knew when I read her email that I wanted to repurpose it into a blog, but why it took more than one month is a funny story that ended up with me unknowingly helping Helen conquer one of her fears, as well as Helen and I discovering that we have many travels in common.
August 6th, 2014
Dear Sir,
I just want to share a few words with you.
I am lucky enough to be driving a Fiat 500L. A bright beautiful yellow one with a shiny black roof. I am still trying to come up with her name, but am not quite there yet. Suzy has been an option … I digress.
Growing up in England, we owned Fiats all my life. My Dad would never have any other car. When he became a taxi driver in the early 70s, he bought his first Fiat. It was navy blue I remember and he had it for years. I remember it in the driveway as a 4-year-old. It had travelled miles as Dad taxied folk around in it and it never had any mechanical issues. When Mum and Dad married in 1978, Dad of course bought her a Fiat straight away. And so it began. We've had the Tipo, the Croma, the Tempra, the Punto, the Bravo and the Brava. I learned to drive in the red diesel turbo engine Fiat Tempra. I remember it had a really cool dash board. All electrical.
One year Dad decided to "spice things up a little" and went to the dealership and came home with a Ford. Well, none of us could believe it. Neither could Dad himself. He drove it around a bit and two days later returned it to the dealership and bought the Tipo. "Never again will I buy anything other than Fiat." He hated that Ford!
Sadly my Dad passed away last year and my Mother passed away a couple of months ago. The last 16 months have been very sad for our family. My husband was looking to do something nice for me upon my return from my Mum's funeral in France to try and cheer me up and bring some sunshine into my life. Well, he did just that and then some!
Whilst I was away, he surprised me and bought me the Fiat 500L. He and our daughter drove it up to Seattle to pick me up from the airport and there it was waiting for me. I couldn't believe my eyes! A brand new car as well! I have never owned a brand new car before. It was a super feeling.
So this is just to say, I LOVE my new Fiat! She drives beautifully and is very smooth and I love the interior design. This is a perfect size for me driving around the narrow streets of Portland and is very comfortable for our children in the back.
This Fiat is helping to bring back some great memories for me. Plus, I'll get to teach my daughter how to drive in a Fiat, just like my Dad taught me.
I am really so glad to see such a resurgence in the brand and for it to be so popular. There are lots of them up here in Portland.
Keep up the good work and thanks for making great cars 🙂
Helen
So what was the fear that I helped Helen conquer? The fear of going through the car wash! She had waited several weeks to get her Fiat 500L as shiny as the sun for the photo, but being that couples can get busy, she couldn't wait any longer for her husband to take it through the car wash. So Helen told me she 'put her big girl knickers on' and got the car washed by herself. Something about her words tipped me off that she could be from northern England. As it turns out, she was born in and lived in several of the towns I have encountered on my travels, including Leeds, Bradford and Keighley. Not your typical run-of-the-mill tourist spots. So, no matter how big the world is, or where life takes you – there's always something that reminds us it really is a small, small world.