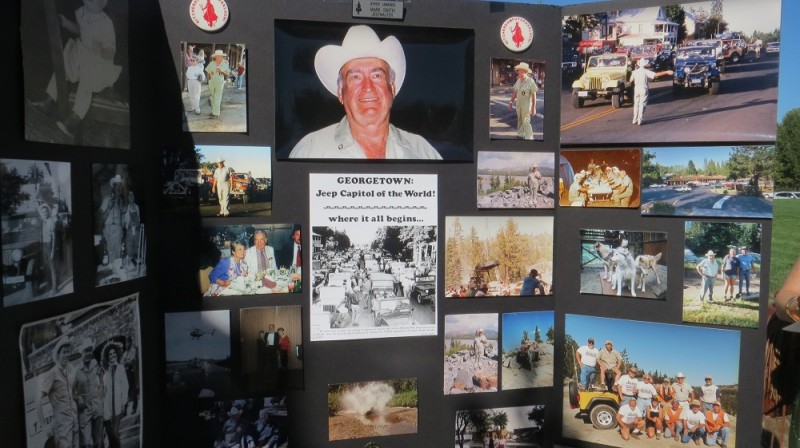 The Smith family's public thank you to the Jeep community and Jeep Jamboree USA (JJUSA) family for their support of Mark A. Smith's efforts to promote recreational off-roading took place on Sunday, August 31st at Henningsen-Lotus Park, Lotus, California. The Jeep Girls drove their 2015 Firecracker Jeep Wrangler to say good-bye to an old friend and meet new ones as well.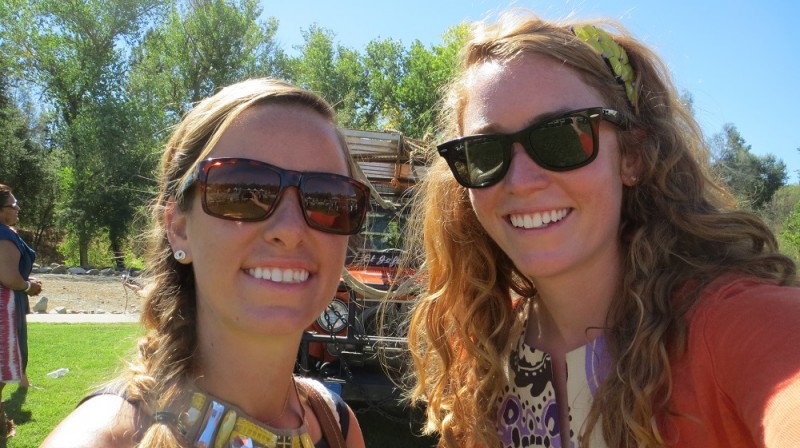 Brittany and Ashley Hill. The "Jeep Girls"
This was an opportunity for long time friends to share their stories of great times with Mark. This gathering also served to reveal and thank Jeep for creating a one of a kind Mark A. Smith edition Jeep Wrangler. The vehicle was donated to the El Dorado County Sheriff's department for their support and patrol of the Rubicon Trail, namesake of the more than a decade-old Jeep Rubicon.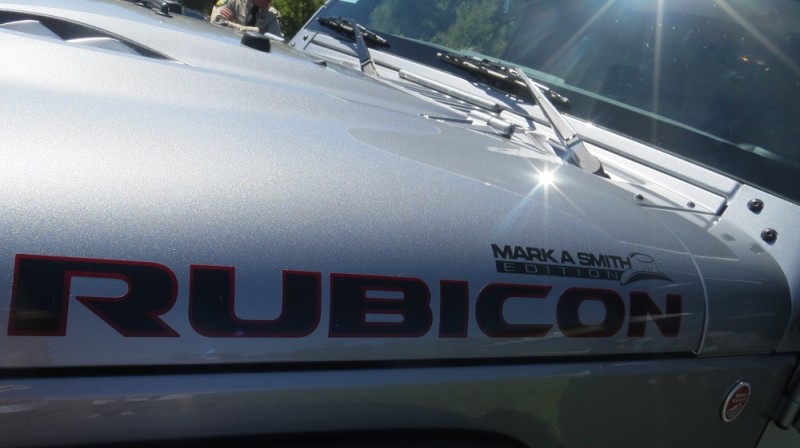 Speakers included Retired Judge  Eddie Keller, CA State Senator and proud Jeep owner Ted Gaines, friend Perry King, Off-Road Hall of Fame member and icon Rick Pewe and Tyler Ruby of the Jeep Brand. JJUSA support staff, journalists, and friends of Mark A. Smith made up a crowd of approximately 250, to pay tribute to his life accomplishments.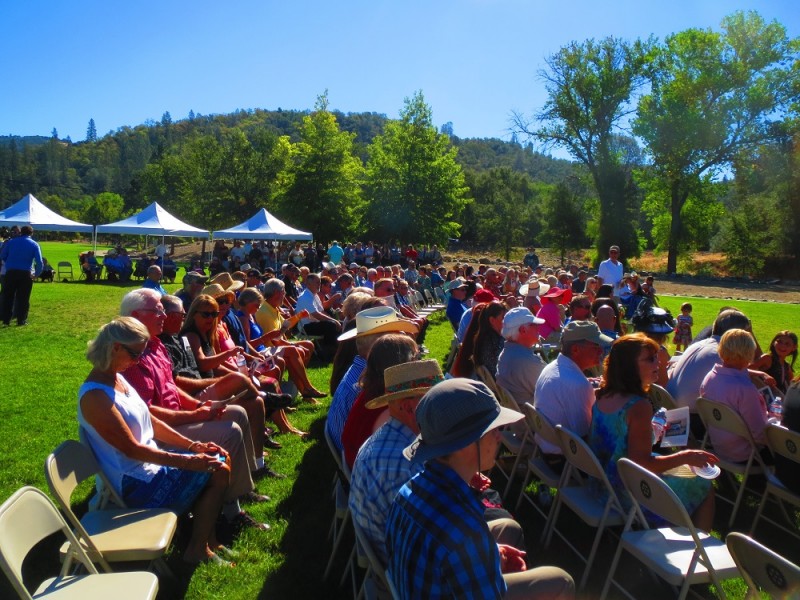 It was a sunny, warm day near the Rubicon Trail.  Attendees were invited to laugh together and share the signature trail "sack lunch" of chicken fingers, brownies, mystery chips, and M&M's, which were Mark's favorite.  Friends of Mark sported his signature white cowboy hat with silvery ponytails attached! Some folks even took to jumping to celebrate the miles driven by red Mark's CJ-7!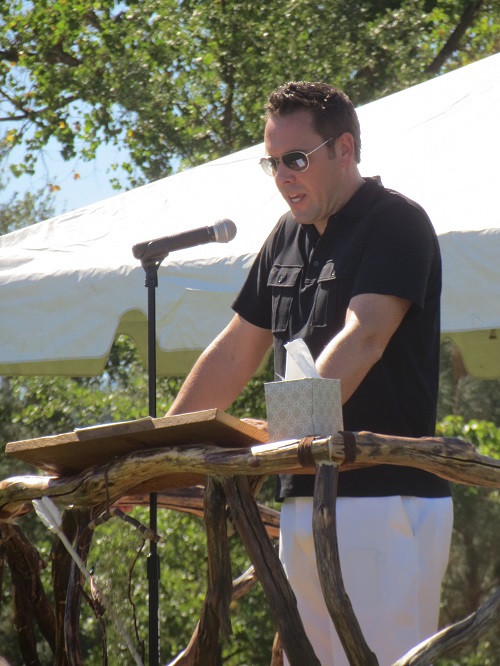 Pearse Umlauf, Vice President, JJUSA   
Memories included Vice President of JJUSA, Pearse Umlauf, describing that he and Jeep Jamboree helicopter pilot Mel Cain recently hit a rare species of bird en route to Rubicon Springs. The feathers of this ill-fated creature donned the podium, which was woven from the wood of trees found on the Rubicon Trail. As Pearse began to talk about the significance of hitting this rare species, there was a beautiful dragonfly that playfully lingered at the ceremony. The animal lover and fun-lover in Mark would have treasured the decoration.  It was noted that Mark was an explorer, having headed the 1987 Camel Trophy in Madagascar as well as the 1978-79 Expedicion de las Americas, a 120-day trek from South America to North. In 1982, Smith founded Jeep Jamboree USA. In Mark's book, Driven by a Dream, he said that after he's gone, "I'll probably be exploring …with my dog in my Jeep."
Mark's daughter had mentioned that the family recently gathered together on the Rubicon where they saw a beautiful rainbow in the clouds.  They had also heard that there was an influx of wildflowers that had never been seen on the trail before.  They bloomed for a mere forty-eight hours.  We all gathered together celebrating a burning fire of adventure!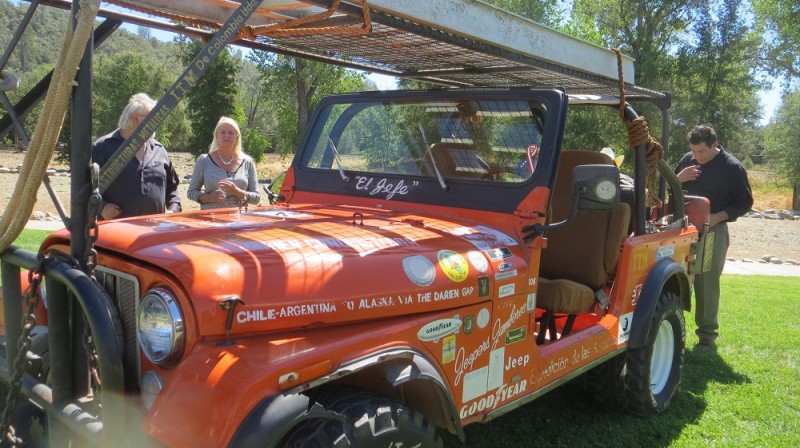 Rick Pewe, an exceptional off-road expert who has explored the world off-road near and far, left the crowd with some poignant words regarding the accomplishments of Mark A. Smith. "…We'd all like to be on the Rubicon Trail right now, think about that!" The adventuresome and visionary spirit of Mark A. Smith has made the Jeep Rubicon, as well as the use of the Rubicon Trail, possible.
Jeep Jamboree has been delivering an incomparable experience since 1953 "only in a Jeep!" JJUSA has several trail trips remaining in 2014 and intends to continue the Mark A. Smith legacy. Contact JJUSA at register@jeepjam.com to schedule your USA Jeep adventure!
 "Mark Smith passed away, but not before feeding some logs of excitement to that inner campfire of so many adventure hunting off roaders.  Let's not let that fire die!" as best said by attendee Fred Williams.
 Until next time,
 We'll see you out there!
 Brittany and Ashley Hill
"The Jeep Girls"